Kontopoulos Business Equipment company profile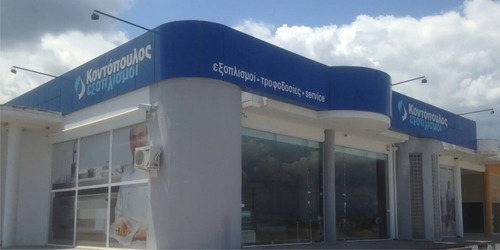 The company Kontopoulos Equipment was founded in 1998 by Athanasios Kontopoulos. With an experience of many years in the business equipment, the company offers the best and most reliable products on the market at the best prices.
We offer a vast range of products for restaurants, coffee-bar, pizza, fast food, pastry shops, hotels, butcheries, bakeries.....
With a variety of products, modern professional equipment, highly trained technical support but mostly consistently and philosophy, we offer the necessary solutions for the improvement and development of any business in the catering.
Understanding the needs of modern store, our company comes to completely cover every part of the development project. For this reason, we expanded our services in the study and design of your store equipment and the projection systems for your products. Furthermore, authorized technicians serving nationwide and provide any technical support to our customers.
We have a large stock of used professional equipment in perfect condition and very good prices. We undertake the transportation, installation and support of all our used products. This equipment you'll find in our company is backed by highly trained and equipped with spare part service.
Unceasing proposals - solutions for the professional desktop your equipment, in terms of quality, design, usability and of course price. Training our staff and development partnerships with major international companies and the Greek agoras. We guarantee excellent quality and product function costs. Our company offers a wide variety of projects, and support from the sales department to find the ideal solution to all your needs.
The company Kontopoulos Equipments offers integrated cleaning systems, disinfection with detergents, stationery, sanitary appliances, tools and cleaning machines and other regional supplies. We offer a wide range of excellent quality cleaning products for every workplace.
Our love for coffee, know-how and our expertise on this, coupled with the respect to the professional are the keys of the operating mode of our company. The complete product range of coffee beverages, the equipment and our extensive experience makes us to give you Reliable Solutions.